Location Settings
Your device uses a combination of Wi-Fi, GPS and mobile networks to determine your location.
You can switch Location on and off, and change how your device determines your location.
Changing your location setting to a highly accurate setting will result in your device more accurately pin-pointing your location but will result in increased data usage and use more battery. A lower setting will be less accurate but save battery and mobile data.
The below article covers the steps for the:
Galaxy A3
Galaxy A5
Galaxy J5
Galaxy S5
Galaxy Note 4
Switching Location on and off quickly
1. Use two fingers held slightly apart to pull down the extended menu.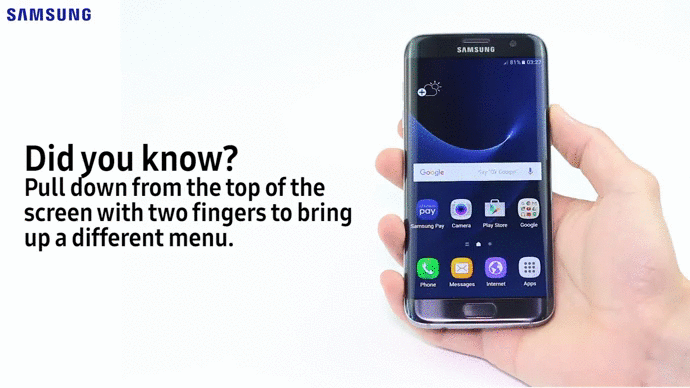 2. Then tap the Location icon to turn it on or off.  

Note that you can also switch Location on and off in Settings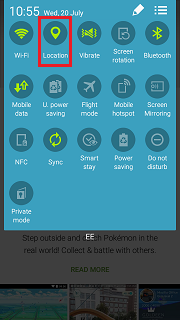 Adjusting Location Settings
1. Tap Apps
2. Tap Settings
3. Tap Location
Don't see Location? This article describes the steps for the A3, A5, J1 and A5.
Location settings for other models can often be found under Privacy & Safety or Privacy. Click here to see an article on Location for S7, S6, A3 (2016), A5 (2016), J3 and J5 models.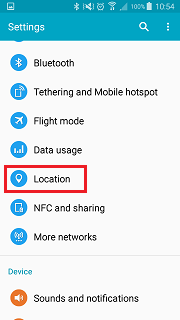 6. Use the switch to turn Location on
7. Tap Mode
7. Choose which method you wish your device to use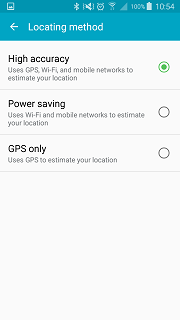 High Accuracy
This uses a combination of GPS, Wi-Fi and mobile data to determine your position. Data charges may apply.
Power Saving
This option uses only Wi-Fi and mobile networks. Data charges may apply.
GPS only
This option uses only GPS to estimate your location.
Location Services
Your device uses information from Wi-Fi or mobile data networks (or both) to help calculate your position. This option lets Google use its location services to estimate your location and improve search results and other services.
To set location reporting for Google, touch Google Location Reporting. You can turn Location Reporting and Location History on or off here
My Places
My places lets your device recognise your location to provide relevant information and services.
Add places such as Home, Work, and Car. This will allow you to use the Maps app, Wi-Fi, or Bluetooth to recognise locations.
For example, set your Home location using Google Maps to search for your location or define your Car location by selecting your car from the paired Bluetooth devices.